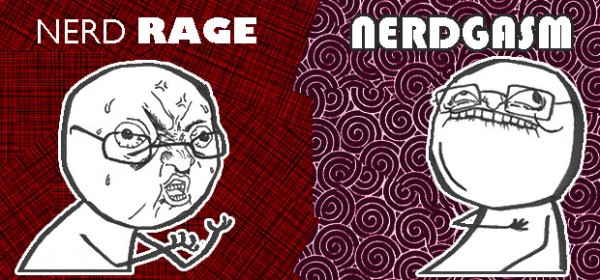 Many laughs have been had, tears have been shed, & angry responses have been posted. All in all, a fabulous Nerd Rage/Nerdgasm Week here at Gay-Nerds. With the deluge of love and hate, you might have missed a few of our contributors' passionate proses. Below is a list of the articles published this week:

Jem
Phoenix in MvC3
Gauntlet
The Dark Tower
Q's with Margaret Cho

Twilight
The Moefication of Anime
Wonder Woman
The Ass Bin:
The Matrix
Journey to Kelabra
Rainbow Creamsicle Explosion:
Ragegasm

Feel like they raged on the wrong things?  That they left sticky things that should be best left unsticky? Need to analyse Dryden's Ass Bin? Speak your mind on the forums or even submit an article for the front page.  All because Nerd Rage/Nerdgasm week is over does not mean the angry fist-pounding or excited fist-pumping has to end.