Welcome a very special edition of Gay-Nerds biweekly highlight of music from members of the GLBT community and their allies. Today is that miraculous corporate confection designed to keep committed folk paranoid and demanding while their single peers face rejection, self-loathing, and an entire day spent weeping uncontrollably to "The Queen is Dead" in their bedroom. Rather than go straight to the gooey manufactured sweetness of puppy-love pop song or tear smeared journals of the haters, I decided a balance of both ends of the spectrum with Magnetic Fields' "69 Love Songs"; three discs stuffed with Stephen Merritt's sincere, sarcastic, sweet and sorrowful reflections on the subject.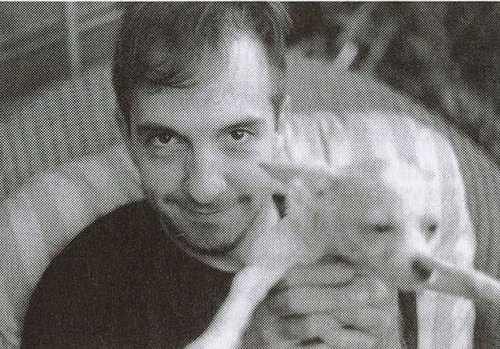 Stephen Merritt decided that the best way to introduce himself to the world of theater was to write 100 love songs. Like most ideas proposed while lounging about in a gay piano bar, he decided to hone his ambitions to a more manageable task. He settled on a smaller number and enlisted a number of his friends and colleges in an effort to capture every side of love. Genres and instruments fly by with the wanton abandon of human emotion between songs. Stephen daydreams about showing his perfect catch to his friends ("When My Boy Walks Down The Street" to pleading with his friend to drop the kitchen knives after a rough night ("Yeah! Oh Yeah!), before throwing his arms up at the whole damn thing with "Love is Like Jazz".
The best thing about 69 Love Songs is that it doesn't offer any definitive answers and it doesn't judge. The overzealous couple in "Let's Pretend We're Rabbits", the lovelorn lump of "I'm Sorry I Love You" and the detached vagabond of "Papa Was a Rodeo" offer their tale and move on. For each story, a new set of instruments accompanies; guitars, organs, xylophones, trumpets and wurlitzers and dozens of other instruments appear. I doubt many people could listen to this without finding at least one song that they don't enjoy between the bumbling and anxious "Absolutely Cuckoo" and the Cole Porter kiss-off of "Zebra."
Stephen Merritt has a reputation of being a "horribly depressing" songwriter. However, on 69 Love Songs, he balances the bitterness, darkness and joy that can come from being in love and loving someone remarkably well. Moments of hope, amusement and joy poke through his dry and deadpan delivery, leaving a much more satisfying (and dare I say healthier) outlook than, say, the work of Mark Kozelek or Morrissey. Hell, just one look at the album title should assure you that Stephen has at least some capacity to find humor in daily living.
Despite being nearly three hours long, there aren't many moments of 69 Love Songs that feel wasted or uninspired. For anyone who likes pop music but is tired of glossy cliches, Magnetic Fields should be right up your alley.
Recommended if you Like
Neutral Milk Hotel's "In The Aeroplane Over the Sea", Bright Eyes' "The People's Key", The Decemberists' "Picaresque"
Like it? Loathe it? Want me to stop beating up on The Smiths? Bring it to the forums!
Tags: 69 Love Songs, Dark Humor, Flip Your Wig, Folk, Gay Love, indie, Instruments out the Wazoo, Magnetic Fields, Pop, Sad Bastards, Sex Jokes, Universal