Nikita is the new-ish show that premiered on the CW this month.  I say 'new-ish' because I have lots of memories of watching Weird Science on USA as a child and seeing the 'adult' block of programming they had at night with Silk Stockings and La Femme Nikita, the latter of which is also based on a French film of the same name when I was only four.  Anyways, when I heard that Maggie Q was taking over the role of the titular spy, I thought it could be pretty cool.  Q, whose credits include various Chinese films, Mission:  Impossible III, and The King of Fighters (as Mai Shiranui), is supported by Chad West (Tom Sawyer in League of Extraordinary Gentlemen), Aaron Stanford (Pyro in Bryan Singer's X-Men films), and Lyndsey Fonseca and Xander Berkeley who were both in Kick-Ass.  With all these actors having familiarity in action films, and adaptations, how does the pilot for Nikita fare as a total production?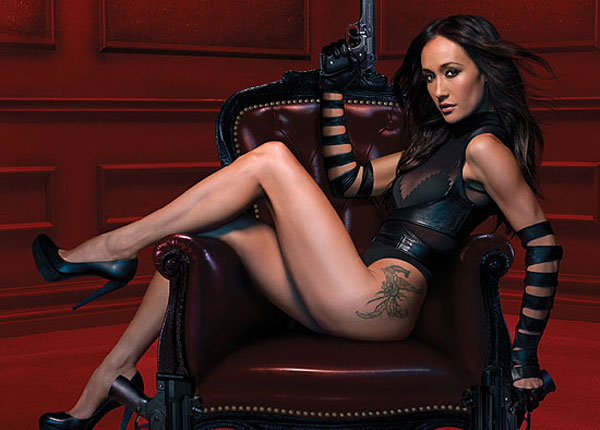 Nikita, the best agent Division has ever had, betrayed her employers the second she broke the covert operation's only rule:  she fell in love.  After having her fiancée killed, Division continued to steal away hopeless runaways like Alex (Fonseca), while the man who trained Nikita, Michael (West), was forced to dispose of her.  At least, he thought he did.  Three years later, Nikita makes her presence known to Division and vows to end the corrupt government outfit headed by Percy (Berkeley).  They took her life twice, and she wants revenge.
Positives

Nikita approaches action in the show very well.  The director knows how to present multiple setups in a way that feel very distinct from each other, even though they boil down to "Nikita walks in, makes a smarmy remark, cracks some skulls, and walks out."  By cutting away to other important beats in the show, a satisfying amount of anticipation is created in each of the four main action scenes of the pilot., allowing the show to shine in those energetic sequences of Nikita's badassery.  This smart direction extends into the overall presentation of Nikita as a woman that gets the job done.  She's never shown as someone out of control of her sexuality, and therefore just a pretty woman to be objectified on a weekly basis.  But by far, the main reason why this is true is Maggie Q's performance.  She portrays Nikita with cleverly balanced stoicism, vulnerability, and wit.  Q is able to anchor Nikita in a way that that manages to dampen a lot of the other detracting elements and keep the viewer interested during the show.

Negatives
Sadly, the writing may not keep people interested in watching the show from week to week.  The tone of
Nikita
is a mess:  it's funny when it shouldn't be and not funny when it should be.  And it's not that jokes are poorly written and executed.  It's that there is a stunning lack of a sense of humor.  In a show like this, full of action, betrayal, assassinations, and serious business, there needs to be some kind of levity so that there is a deeper sense of urgency when something
does
happen.  There is a scene where Alex meets two other recruits into the Division during lunch.  It's the perfect place for some kind of reprieve in between backstabbing, yet we're introduced to an inordinately bitchy girl looking to start a fight for no reason.  At that moment, you quickly realize she has a bigger role to play in the show, and a wave of despair flows through your body every time her face is on the screen.  Compounded with transparently placed exposition and a story that feels like it couldn't possibly last beyond one season, and
Nikita
leaves a bad taste in your mouth by the end of the first episode.
While Maggie Q does her best to keep the ship from sinking, I can't help but feel as though it isn't worth watching weekly.  Instead, I think it's good to just take it for what it is, and drop in whenever you feel like watching the television version of
Salt
, minus the competent storytelling.
Do you think I was too harsh? 
Crucify me in the forums.
Tags: Chad West, CW, Kick-Ass, La Femme Nikita, Lyndsey Fonseca, Maggie Q, Nerd Premiere, Nikita, Salt, television