Welcome to "Gay of the Week," where we highlight LGBT characters in film, television, comics, anime, and video games. This week, we're looking at everyone's favorite lush, Wallace Wells!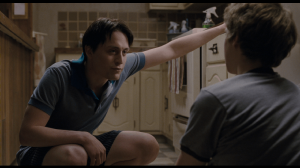 Wallace Wells is from the Scott Pilgrim series of graphic novels (as well as the live-action movie adaptation Scott Pilgrim vs. The World, where he was played by Kieran Culkin).   In both the books and film, Wallace is main character Scott Pilgrim's roommate.  However, being the loser he is, Scott owns nothing in their shared apartment.  In fact, the two share a single bed together (sorry fellas, but no hanky-panky ever occurs between the two, as Scott is straight).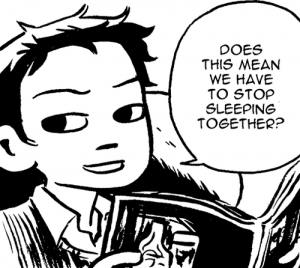 While Scott Pilgrim spends the entire series trying to figure out his feelings for love-interest Ramona Flowers, Wallace seems to pretty much have his shit together.  He plays the field a little bit, and seems to have the magic ability to turn straight men gay (or at least every straight man that Scott's younger sister Stacey tries to date).  There's even a scene in the movie that heavily implies Wallace had a threesome (with poor Scott still sharing the same bed afterward).
In the series and movie, Scott is in desperate need of a little growing up.  Wallace serves as a wisened gay sage, that tries to push Scott in the right direction (like advising Scott to break-up with his still-in-high-school girlfriend).  Most of this advice is given with a drink in hand, and various levels of sobriety.
Wallace is a really fun character, and admittedly, a little underused.  He did appear in the Scott Pilgrim vs. The World video game adaptation, but only as a DLC re-skin of the lead singer of Scott's band, Stephen Stills.

Have an LGBT character you'd like to see highlighted?  Let us know in the comments!
Tags: Bryan Lee O'Malley, gay of the week, Scott Pilgrim, Wallace Wells