Perhaps the best thing about the Buffy "Season 8" comic series was the fact that the story could go places that never would have been allowed on TV. That is what brought us Satsu, one of the most dynamic editions to ever grace the Buffy storyline. Born into a traditional Japanese family, Satsu's life changed forever when Willow activated all potential Slayer powers and she discovered her outstanding new strength. She quickly rose through the ranks of Buffy's slayer organization, ultimately becoming the head of the Tokyo faction.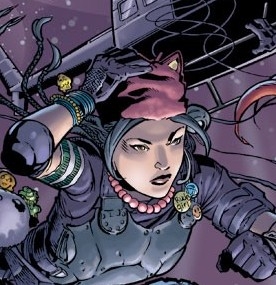 None of that was as compelling, however, as Satsu's personal relationship with Buffy herself. Due to her heightened skills, Satsu was placed into a close position to Buffy during training. From there, she started to develop feelings for her leader that eventually qualified her to be the only one able to wake Buffy up from a spell that required a kiss from true love. Her feelings eventually culminated in a brief affair with the straight Buffy, who was unable to reciprocate Satsu's feelings in a way that she deserved. Satsu was hurt, but inner strength and good advice from a friend left her standing tall and proud, unashamed of herself or her feelings.
What makes Satsu special, however, is her pure humanity. We all know that both comics and Buffy can tend to the extreme, but Satsu stands out as an exception to that rule. She's a strong woman, yet still has very valid reactions to the emotional turmoil that she experiences. Satsu reacts to her unrequited love in a natural way, becoming one of the most real characters in the entire series. That strength, in juxtaposition with her human vulnerability, ties Satsu with Daken as our #10 LGBT comic character.
Recommended Reading:
The Long Way Home
A Beautiful Sunset
Tags: buffy, Comics, dark horse, lesbian, satsu, season 8, Top 10, Top 10 LBGT Comic Book Characters