Warning: Penises are censored but I would still consider this article NSFW. Proceed at your own risk
Sometimes you watch porn when you want to get off. Sometimes you watch porn to be entertained/horrified. These 14 entries are unapologetically in the latter category and I have no fucking problem with it. God bless bored porn directors and the crazy studios that fund them. A lot of research was done at gaypornparody.com, so thanks to them!
Without further ado:
1. Super Barrio Bros.
Super Barrio Brothers is a 2006 porn parody flick from studio Urban Latino based on the Super Mario Brothers series (shame on you if you didn't know that.)
Synopsis:
In this world, two young plumbers, Mario and Luigi Barrio struggle to stay independent from Koopa Utilities Empire. Then one fiery summer day the Barrio Bros. get and urgent call from Rick and Mack. The nasty Koopa has raised the temperature in their apartment to unbearable degrees, just to watch them sweat and the young men can't turn off the heat!
This shit is legit, yo. It's been digitally remastered even. They spared no expense and I approve of the pun in the titles. Bravo, Urban Latino, Bravo.
2.  Captain Americock: The Twink Avenger
Boy Crush presents one of the weirdest superhero flicks yet in Captain Americock: The Twink Avenger: A XXX Parody.
Synopsis:
Steve (Austin Ried) is a broke, lazy & unimpressive stoner. When rent is due, he participates in a medical expiriment conducted by Dr. Franko (krys Perez) that transforms him into the powerful & well endowed Captain Americock! Plungin him into a war where he must fight to save the world from Red Skullfuck (Dustin Fitch) & his minions. Also Staring Anthony Evans & Klyer Moss (& more!) This Parody lets you watch your favorite twink heros fuck each other silly & definitely won't leave you feeling blue. ..
Oh wow, an actual storyline. Terrible Red Skull costume but I would trust that doctor on the cover to check me for testicular cancer. He just looks so reputable. You get full points for the name, Boy Crush but only halfsies for costuming.
3.  Batman and Robin: An All Male XXX Parody
Manville presents: Batman and Robin: An All Male XXX Parody
Synopsis:
The dynamic duo in their very first all male adventure! Can they bring the Riddler and the Penguin to their knees?
Damn. Amazingly cheesy costumes, a shit storyline and amazing cover art. The thing even has freaking creases like an old comic book. Good job, Manville! I'm plinking off points for the lazy title though. Solid A-
4. Batdude and Throbin: the Sexx Capaders
Pleasure Interactive released Batdude and Throbin: the Sexx Capaders in 1989, the same year Batman by Tim Burton was released.
Synopsis:
Stay tuned for some of the hottest Batdude sex you've ever seen. To the batdude cave! Let's go! Follow our diabolical duo as they free the world of it's nasty sex criminals that rule our desires. "Batdude and Throbin" a burning release from InHand video…of course.
This is what I'm mother fucking talking about. A++ title. You sir, have earned my respect and gratitude. Such a deliciously campy composition for the cover
5. Green Lantern Is Gay: A XXX Parody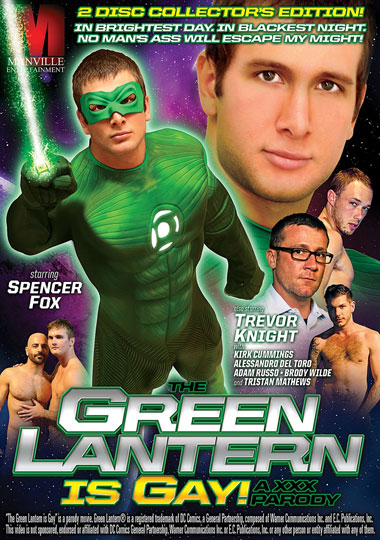 MAnville Presents: Green Lantern Is Gay: A XXX Parody starring Spencer Fox
Synopsis:
Love and romance collide with evil as the cosmic battle between the Green Lanterns and the diabolical Penillax makes its way to earth! Test pilot Hal Hardon is the recipient of an alien Lantern's mighty shaft and is chosen to become a Green Lantern for good; while his life-long friend Hector consumes a hot delivery man with the yellow power of pure lust. Can our hero save the Senator and his aide from their own heated passions? Can the Green Lantern defeat Penillax and win the heart and ass of his true love? …
It's like they didn't even fucking try. Really? Couldn't you have even named it Gay Lantern? Green Lantwink? I'm so disgusted right now. Shame on you guys for dropping the ball. Completely unforgivable. Just like the amount of Photoshop you did on the cover. Advice: Use the spot healing brush not the blur-the-fuck-out-of-their-faces button. His complexion looks faker than a Real Doll.
6. Web of Sperm: A XXX Parody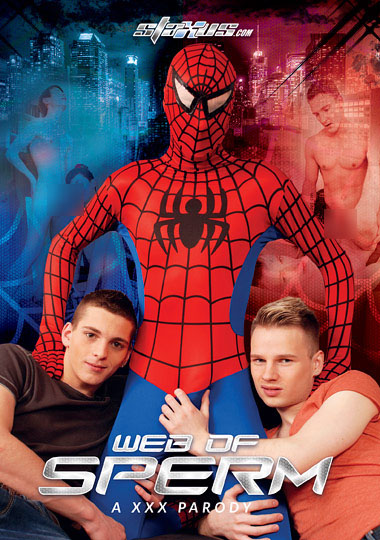 Slaxus presents: Web of Sperm: A XXX Parody is what took them so long.
Lazy. I can't even find a synopsis for this shit. I suppose they knew exactly what they wanted to do and stuck with it. Big points for the interesting cover art though.
7. Fucking Harry Palmer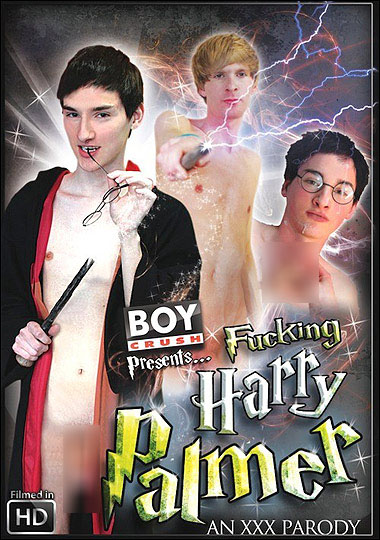 Boy Crush and Saggerz Skaterz release a magical new gay porn parody, Fucking Harry Palmer.
Synopsis:
One guy will do whatever he can . . .to get laid. This is the story of Harry Palmer, a handsom chap with a flair for magic. He can use his powers for good or for evil, but mostly just to get guys into bed. When his arch-nemesis curses him over his summer break from school, it's up to Harry to do whatever it takes and fuck whoever he has to fuck to reverse it.
Note, this is the first of many Harry Potter parodies. You have been warned. This was released just after the last Harry Potter film was out in theaters. It's vaguely passable but I am docking points for none of them having a lightning scar on their forehead. It's all about the details, goddamnit. Have some pride.
8. Whorrey Potter and the Sorcerer's Balls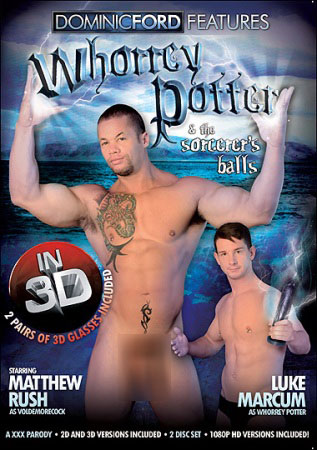 The Harry Potter megafranchise gets the gay porn parody treatment from Dominic Ford in Whorrey Potter and the Sorcerer's Balls.
Synopsis:
The plot closely follows that of the original movie. Whorrey (with the help of his friends) must find the Sorcerer's Balls before the evil Voldemorecock gets his hands on it. But, instead of playing chess and other more "common" challenges, the three leads have to complete several sexual challenges before Whorrey can successfully get to the balls. Dominic Ford was wise in casting A-list models with solid on-screen credits for the sex scenes, because performers like these can rise above any kind of silly setting and make the action come worthy. Even Marcum, whose experience pales when compared to Rush or Van Damme, offers up some magical movements. Whether that happened because of Ford, the other models, or both is irrelevant; the point is that he's pretty damn great.

The movie features floating cocks (thanks to the Invisibility Cloak), a mind-boggling double anal penetration threesome while all three leads are floating in the air, and really hot sex between all the cast members. The visuals are truly stunning, and most of the action takes place in an amazing castle. Each DVD comes with the Full HD versions (1920×1080) versions of the movie (in both 3D and 2D). This is a must have. It's great for parties or to get hot to by yourself, and is the perfect gift for any collector.
Mother fucking floating cocks. They sold me on that line alone. No need to go any further. clear my schedule for the day, I have to organize a movie night. A+ title too and it's in 3D! This is the quality stuff, man.
9. Larry Cotter And The Wizard Of Ahhs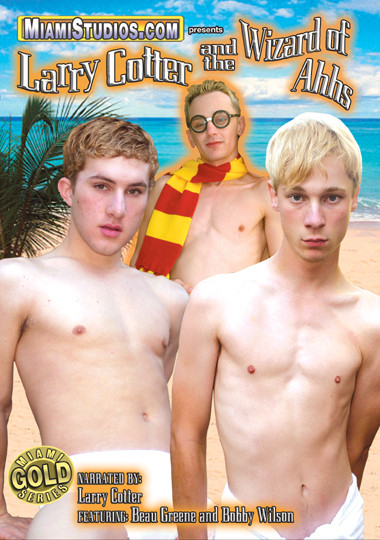 Miami Studios presents Larry Cotter And The Wizard Of Ahhs from 2006.
Synopsis:
This sexsational flick of hot twink lust introduces Brit BoyToy Larry Potter. Watch him wave his magic wand and make hot Brazilian soccer players appear. Lean teen, barely legal boys, hard pounding anal action, colossal cumshots, and a bit of magic.
No, fuck you. Wizard of Oz isn't remotely related to Harry Potter and your Draco Malfoy lookalike is wearing a Gryffindor scarf. What the fuck is wrong with you people? Still no lightning scar and barely any mention of any magic. Easily the weakest out of the Potter Porns.
10. Harry Squatter And the Sorcerer's Bone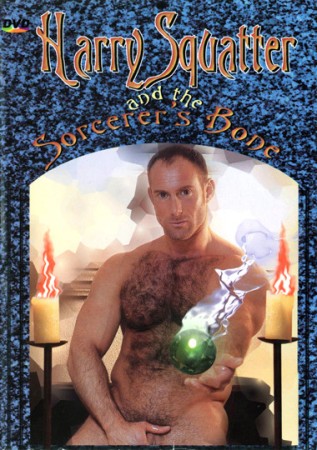 Released back in 2002, Harry Squatter And the Sorcerer's Bone came out when the franchise was crazy popular
Synopsis:
A large stranger shows up at Harry's door and pulls him away from his old life to a new one of magic… and sex! Lawyer Ronald shows the big man a few tricks of his own and David practices his prestidigitation by pulling naked men out of thin air! Next Siggy attempts to levitate a vase but ends up Levitating an object in Ron's pants! Finally, Harry meets the school's Headmaster, who shows him the sorcerer's bone… and the true meaning of the term Headmaster!
Bravo on that sick cover, bro. It's so bad that it's awesome. Not only that but the description has actual magic in it!
11. G.I. Mo: Rise of the Cock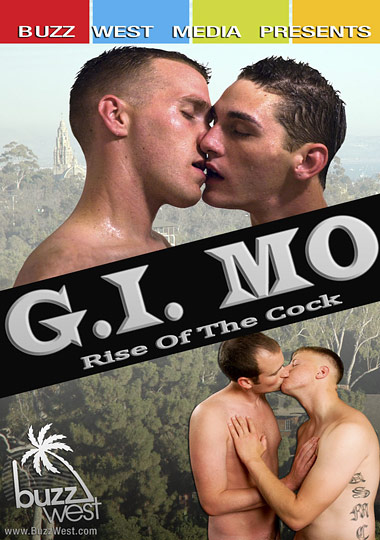 Buzz West presents: G.I. Mo: Rise of the Cock.
Synopsis:
Bradley told me he really needed to get laid because he had not had sex in over 2 months and wanted to pound some ass good, Gavin loves to get fucked, and can take it as hard as anyone can give it! They don't waste any time getting naked and right down to business! Gavin keeps a nice hard-on while he's getting fucked, which I love about him. Bradley gives it to him good, and Gavin shoots a huge load all over his chest while Bradley's fucking him, and then Bradley pulls out and shoots an amazing load himself. It made Gavin looked like a glazed doughnut!
You know, when a porn parody has a great title like this but doesn't contain any story, it's just disappointing. No mention of Cobra Commander at all. Weak entry, guys. If you're going to do it, do it all the way. I'm sure you've heard that line before
12. Twinklight
Twinklight by Gayffe Network. This was released back when Eclipse hit theaters
Synopsis:
Even in death love has to prevail, no matter what the cost… It's an epic journey through love and death.
You know. I'm not even surprised this was made. I mean, if 40 yr. old soccer moms were sexualizing the 16 yr. olds, of course the gays would be all over this. You know what surprises the fuck out me though? This isn't just a movie. This is a goddamn series that updates every 2 weeks. I can't even comprehend it.
13. The American Adventures of Surelick Holmes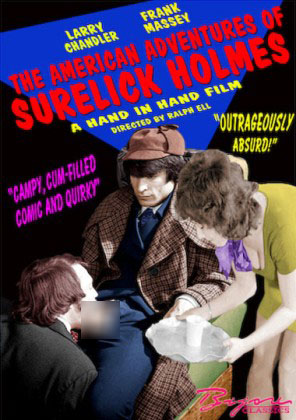 This is a golden oldie back from 1975: The American Adventures of Surelick Holmes
Synopsis:
Surelick Holmes and his trusted companion Watson are off to America to solve a case. It seems the board members of Mr. Rich Bitch's company are being murdered because he refuses to pay one million dollar ransom for them. Mr. Bitch has engaged Charles Head (Private Dick) to solve the case and in turn Charles has turned to his old school chum, Surelick. Campy, comical, and cum-filled, this film has everything from oral and anal, to leather and transvestite sex-and a fun mystery too!
I'm a tad disappointed it's not Shercock Holmes but this was a pioneer film so I can't be too harsh on it. I'm somewhat surprised there isn't a parody of the Cumberbatch version yet but I feel like it's only a matter of time.
14. Drill Bill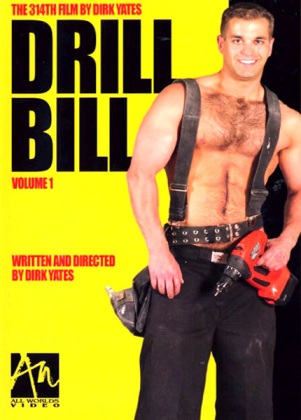 Dirk Yates turned Kill Bill into a construction worker-themed XXX flick called Drill Bill. That garish primary color poster style translates well to porn.
Synopsis:
Downtown San Diego is undergoing gentrification. With the new sports stadium and convention center, more and more residential high-rises are going up in record numbers, and with each new construction project there are bound to be hot and sweaty construction guys! Bill Ray is sensational. He's built like a linebacker and fucks like a warrior.
I actually really appreciate the reappropriation of the theme and a new story added onto it. Plus the cover is pretty sweet. Nicely done
Tags: Batman, captain america, Gay, gi joe, Green Lantern, harry potter, mario, parody, porn, sherlock, spiderman, twilight